Potato pancake with apple and organic Palatine liver sausage filling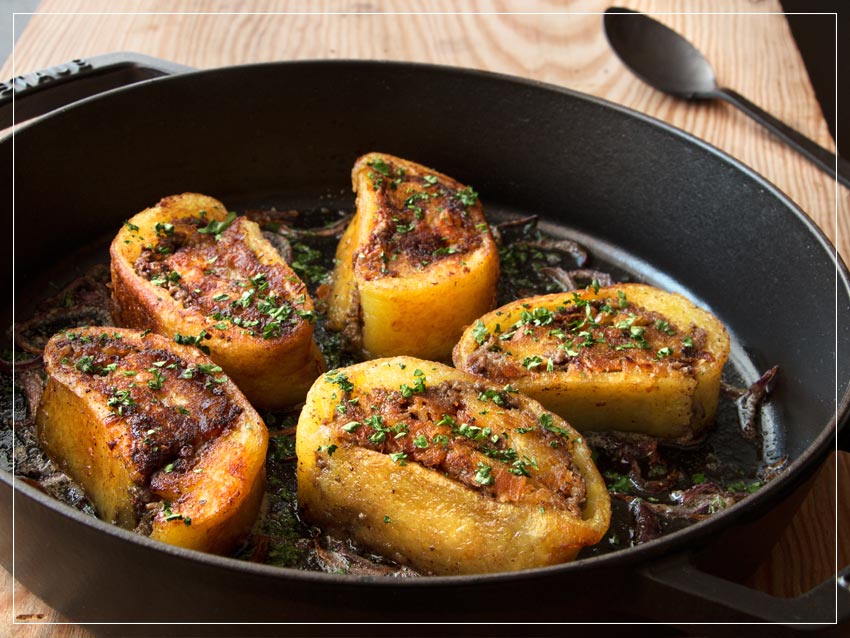 INGREDIENTS
4 medium-sized onions
300 g cooking apple
5 tbsp oil for frying
2 tsp dried marjoram
300 g potato dumpling dough from the chill cabinet
250 g organic Palatine liver sausage
Potato flour
Salt and pepper to season
½ bunch of parsley



PREPARATION
Peel and halve the onions and cut them into fine slices. Wash, dry, and core the apples and grate them coarsely. Heat 1 tbsp oil in a nonstick pan. Fry half of the onions and all the apple until translucent. Add the marjoram to the apple-onion mixture, season with salt and pepper, and leave to cool. Knead the dough, place it on a clean cloth that has been sprinkled with potato flour. Sprinkle potato flour on top and roll it out to a 24 cm × 28 cm rectangle.

Carefully spread the liver sausage on top (this works well with slightly wet hands). Spread the cooled apple mixture on top and using the cloth, roll the dough into a tube from the shortest side. Heat 3 tbsp oil in an oven-proof pan and fry the pancake until golden-brown on all sides. Then, bake in a preheated oven (convection: 150 °C) for 25 minutes.

Fry the remaining onion rings in 1 tbsp oil until golden-brown. After baking, cut the pancake into slices (2–3 cm), add to the onion rings, and quickly fry both sides. Serve immediately.

Enjoy with a fresh salad.