Peter Cornelius and Petra Cornelius
Stringent quality management with pleasure and tradition
The popular Palatine sausage specialties from Cornelius have been something special for three generations — because their products are made with passion, know-how and love.

We would like to tell you more about us, this passion, and our traditional company Cornelius. About people who are daily responsible for the quality and flavor of our products

In 2001 we became the third generation to lead the medium-sized company — and combine many years of family tradition with modern business practices.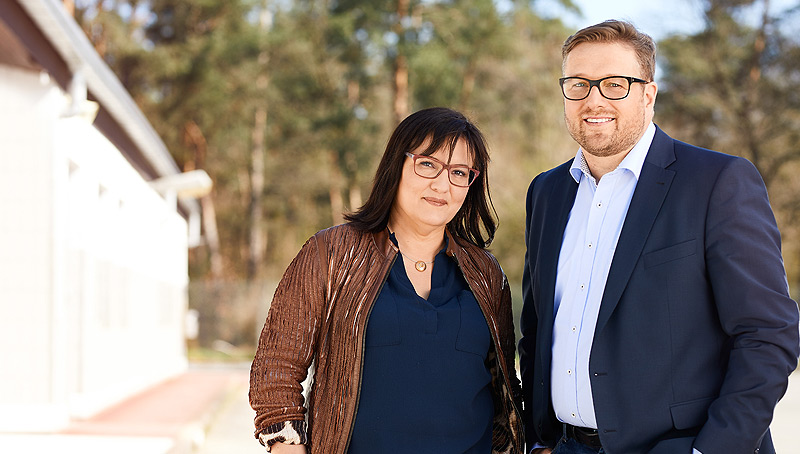 Petra Cornelius and Peter Cornelius


What role does family tradition play?
Petra Cornelius:
Cornelius is an owner-managed family company. My brother Peter Cornelius and I head the company — the third generation to do so.

Along with the mutual trust that we have in each other we are proud of the long and trusting contacts with our suppliers, employees, and trading partners. It's difficult to say whether this is due to the way we were brought up or our convictions. But whatever it is, our life- and leadership style is successful and satisfying at the same time.

The biggest legacy of our family is the sense for the fundamentals, the passion for quality — and the special know-how in sausage manufacture that has been developed and evolved over generations. We take care of this legacy.
What is special about the company Cornelius?
Peter Cornelius:
We regard ourselves as industrial manufacturers: production in small high-quality batches, complete transparency in the production processes, short communication paths in administration and direct links to our customers and sales partners.

This means highest quality at every stage of production — right up to the consumer. It begins with the purchase of high-quality ingredients and finishes with the consistent high quality that the consumer serves on their table.

That is our trademark, retailers can be sure that the customer is happy, if not delighted, to enjoy consistently high quality.
From the Palatine region — into the world?
Peter Cornelius:
We regard ourselves — despite and thanks to our national and international trading partners — as a regional company that exists thanks to the concrete link to our region. 


Our products are original Palatine products: they originate from the region and are influenced by the regional cuisine, the landscape and the traditions. We also have the vast knowledge of our employees who live here and who have learned and perfected their craft from the bottom up.

Our employees are the largest part of our company. Most of them feel that they have been linked to our company and their work for decades. And we believe that one can taste this — Germany-wide!
How do you master the challenge of global consumption?
Petra Cornelius:
With enthusiasm! I am pleased that a new social debate on the theme of consumption of meat and meat products has been initiated. For this we need on the one hand consumers who inform themselves, and who shop and consume responsibly.

And on the other hand, companies that communicate openly and truthfully. Only in this way can a respectful and equal exchange take place. We demand that nature, the environment, people and animals are taken into consideration in the entire value-chain.

High-quality ingredients and the best production processes are the basis of our top products; but transparency and the closeness to our customers are additional ingredients that make a premium foodstuff a valuable and pleasurable food — with outstanding identity.